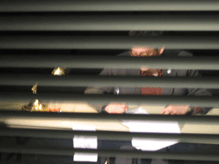 A one-night only performance/tour through the facilities of the PERPETUAL Corporation as part of Portland Center Stage's Just Add Water West Festival 2006.
The PERPETUAL Corporation: Striving for Your Content, Making Attractive your Commodities.
The performance takes you through many of our key offices, witnessing the true heart of our corporate culture on our three levels at the World Trade Center. At the end of this time, you will have a better understanding of the inner workings of the PERPETUAL Corporation. It is our hope at the PERPETUAL Corporation that this tour will show you that a corporation is more than one person. A corporation is a collection of natural persons, becoming one legal person.
Developed by
Alexandra Bradbury, Jacob Coleman, Julie Hammond, Liz Hayden, Faith Helma, Frank Marroquin, Ken Moore, Jerry Tischleder, Gillian Tabler, Aaron Link, Seth Nehil, Adam Saucy & Jonathan Walters
Project Director
Jonathan Walters
Perpetual Top Performers
Alexandra Bradbury, Jacob Coleman, Julie Hammond, Liz Hayden, Faith Helma, Ken Moore, Elle Poindexter, Jerry Tischleder, Frank Marroquin
Perpetual Associate Performers
Jillian Johnson, Kate Mura, Monica Peltomaki, Philippa Anderson, Jacob Baynes, Marla Leahy, Deirdre Atkinson, Theodore Holdt, Kristin Moore
Project Manager
Gillian Tabler
Sound Composition & Design
Seth Nehil
Lighting & Technical Design
Adam Saucy
Company Attire
Carly Jayne
Map, Logo, & Acid House Design
David Chandler
After Hours is not currently available for touring.
Performance Dates
Portland, OR: July 22, 2006