THIS SHOW IS CURRENTLY AVAILABLE FOR TOUR.
"A small masterpiece . . . ultimately accessible, tender and liberating . . . the recreation of theater for our time, and of our time."
— The Oregonian

"Everyone Who Looks Like You is the company's most polished production to date… portraying family just as it is: the people to whom you happen to be related, who made you who you are, who loved you more and caused you more pain than anyone else ever could, and whom you will one day inevitably become."
— Willamette Week
No one has a family this strange; nobody has a family that loves each other this much; no one has a family that hates each other this much… except you, and everyone who looks like you.
Drawn from the personal histories of the Hand2Mouth ensemble, Everyone Who Looks Like You is a family drama exploded for the 21st century. Featuring awkward confessions and eruptions of song and dance, live video, fragile reconciliations, breakfast in your underwear and an original pulsating score, Hand2Mouth weaves a hallucinatory quilt of family experience that is intensely personal yet oddly universal.
Everyone Who Looks Like You was supported in part by the Regional Arts and Culture Council, The Kinsman Foundation, Multnomah County Cultural Coalition, Oregon Cultural Trust and developed through artist residencies at Caldera and Milepost 5. The 2010 Tour of Everyone Who Looks Like You was supported in part by The Equity Foundation, The Miller Foundation, and The Oregon Cultural Trust.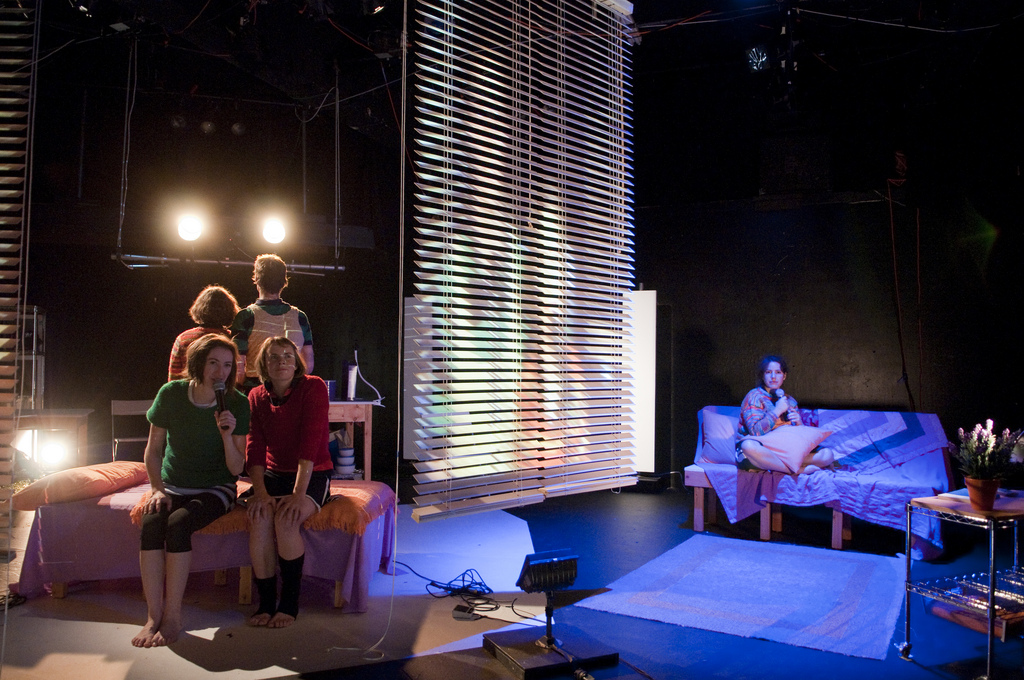 Reviews
Previews
Performance Dates
The Jewish Theatre (FURY Factory Festival), June 17 - 19, 2011: San Francisco, CA
Ethos at IFCC, December 2- 12, 2010: Portland, OR
Western Washington University, November 19 - 20, 2010: Bellingham, WA
Dell'Arte International, October 29 - 30, 2010: Blue Lake, CA
University of Oregon, October 15 -16, 2010: Eugene, OR
La MaMa E.T.C., January 8-17, 2010: New York City, NY
Theater!Theatre!, November 6 - 22, 2009: Portland, OR
Milepost 5, May 14 - 24, 2009: Portland, OR