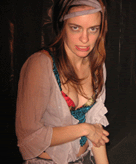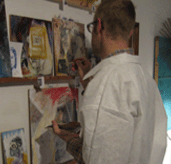 Although many Portlanders are familiar with the Shanghai Tunnels in Old Town, few have explored its Catacombs. In this living installation figures culled from Portland's history battle to put their stamp on the city they once lived in. Visitors explore a constantly changing maze that is filled with the ghosts of Old Chinatown, Skid Row, Missionaries, Cigar smoking politicians, and perhaps someone who wants something from you in a dark hallway. Confronted by a diverse group of visual and video artists, who create work live during the performance, the Portland Catacombs progressively builds into something that could possibly be the city of our dreams or a terrifying purgatory.
Created by: Hand2Mouth Theatre, Fever Theatre & Portland Art Center
Hand2Mouth Performers: Liz Hayden, Monica Peltomaki, Elle Poindexter, Pearl Waldorf
Hand2Mouth Collaborators: Julie Hammond, Erin Leddy, Faith Helma, Jerry Tischleder, Jonathan Walters
Hand2Mouth Stage Manager: Alex Huebsch
Fever Theatre Performers: Jacob Coleman, Mark Modern, Amber Whitehall
Fever Theatre Collaborators: Aurora Erlander-Miller, Kate Sanderson
Other Performers: Ingrid Carlson, Alex Reagan, kollodi
Dramaturg: Alex Reagan
Sound:
John Berendzen, Ryan Cross, Matthew Marble, Frank Marroquin, Seth Nehil, Roger Norton
Lights: Alexzandria Eccles
Video Artistry: Andy Brown & Jason Frank
Visual Artistry: Simon Crane & Emily Stone, Arcy Douglass, Theodore Holdt, Scott Jackson, Sara Mapelli, Ian McNicol, Matt Riley
Concept Design: Gavin Shettler
Project Manager: kollodi
Administrative Manager: Kelly Rauer
"I was all kinds of excited when I heard that Fever Theater and Hand2Mouth Theatre had teamed up for The Portland Catacombs. Unlike a dismaying number of companies in this town, these kids share a knack for making theater feel relevant, and I always look forward to their boundary-defying work. This time, along with the Portland Art Center, they've created an engaging spectacle that prompts visitors to interact with the ghosts of Portland past.
"The Portland Catacombs is essentially an interactive haunted house, but here the "ghosts" are personalities from Old Town's past. Historical characters include Bernard Goldsmith (mayor during the 1870s), a prohibition-era saloon owner, and a gypsy fortuneteller. The entire Portland Art Center building has been transformed for this: The space has been creatively partitioned into an elaborate warren of hallways and rooms, populated by performers from Fever and Hand2Mouth. The actors were provided with historical information and background on their characters, and left to improvise the rest; thus, their relationships to one another, the space, and the audience are constantly evolving.

"It would probably be possible to just walk through the installation, checking out all the freaky shit, and trying not to get too involved, but that would be a shame. All these characters have backstories, which they'll gladly tell you about—all you have to do is ask. One character will tell you how she was shot 22 times by the police; another might ask about your sexual proclivities, then offer you some pornography. These actors can handle whatever you throw at them, and the unscripted interactions add volumes to the experience.

"The Catacombs also possess a strong arts component: A legion of video, sound, and visual artists teamed up to create the Catacombs' uniquely unsettling environment.

"Art, sex, drugs—it's all here. After interacting with all the crazy but harmless characters who populate the exhibit, it's disconcerting to leave the building and step out into the Old Town of today. It's fair to say that after The Portland Catacombs, reality looks a little bit different."

- Allison Hallett, Portland Mercury, October 26, 2006

"The usually avant-garde Portland Art Center delves into a more mainstream and timely subject for its latest creative jaunt: an old-fashioned haunted house. In groups of eight, patrons are led into The Catacombs, an interactive maze of Chinatown's past. After being led by a pale man in a butler's suit into what looks like a leftover horror-movie set, audience members are introduced to the Catacombs' "ghosts," including a depressive porn-shop owner with a shrill sense of urgency to share his story, a ratty woman screaming at the top of her lungs and a wizened man with a pillow of white hair, intently focused on his gadgets. All of this happens amid the menacing sounds of a deafening chainsaw commingling with the eerie voice of a woman slowly chanting in a disheveled corner. Equal parts "choose your own adventure" and a freaky childhood game of hide-and-seek, this living installation brings truthful bits of Portland's past histories back to life. Word to the wiseass: To get the full experience, don't be shy to ask questions of the ghosts—they are more than willing to share their tales."

- Elianna Bar-El, Willamette Week, October 18, 2006
Portland Catacombs is currently unavailable for touring.
Performance Dates
Portland, OR: October 13-31, 2006