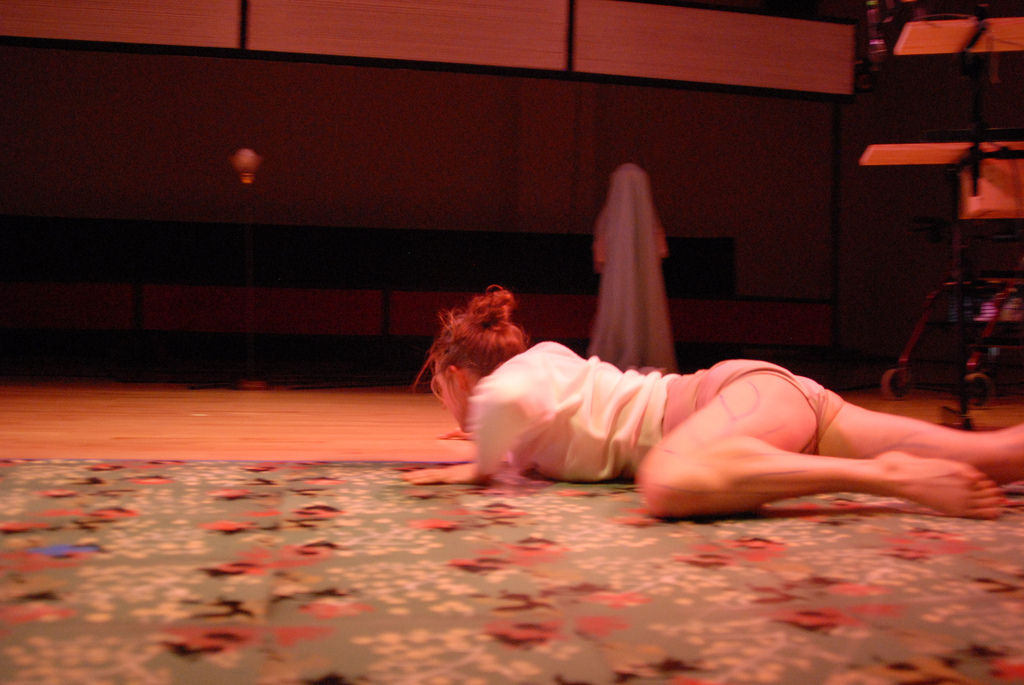 THIS SHOW IS CURRENTLY AVAILABLE FOR TOUR
"Leddy is a superb performer, but what made the piece so compelling was the subtlety of its composition. To explore epistemological issues in this way takes skill; to reveal their potentially deep emotional underpinnings is something quite extraordinary."
— Jim Demetre, Seattle Post-Intelligencer

"...as immersive and compelling as anything I've experienced."
— Ben Waterhouse, Willamette Week
In 2001, Hand2Mouth ensemble member Erin Leddy lived with her grandmother, Sarah Braveman, for a year and recorded her memoirs. Sarah worked as an actress in Boston, Manhattan, and upstate New York from the 1930s until the 1990s, and the tapes Erin recorded form the bones for this solo performance, a meditation on consciousness, memory and things passed down through generations.

My Mind Is like An Open Meadow is directed by Hand2Mouth artistic director Jonathan Walters. Together Walters, Leddy and collaborators Chris Kuhl, Ash Black Bufflo, Holcombe Waller and Jane Paik craft a sonic and visual world – a strange control station of the mind where memory overcomes the live performance and the two realms begin to blur into an elegant mixture of lighting, pre-recorded voice, music, dance and scenery.
Creation of My Mind Is Like An Open Meadow is made possible in part with generous support from The Oregon Arts Commission, On the Boards, The Celebration Foundation, The William T. Colville Art Fund, and the Yaddo Corporation. Travel to Yaddo was partially funded through a Professional Development Grant from the Regional Arts & Culture Council. The 2011-12 Oregon Tour was supported in part by The Oregon Cultural Trust and Ronni Lacroute.
"Leddy is a superb performer, but what made the piece so compelling was the subtlety of its composition. To explore epistemological issues in this way takes skill; to reveal their potentially deep emotional underpinnings is something quite extraordinary."
— Jim Demetre, Seattle Post-Intelligencer
Reviews
Previews
Upcoming Performances
CoHo Solo Summer Fest, June 27 - 29, 2013: Portland, OR
Performance Dates
KO Fest, July 27 - 29, 2012: Amherst, MA
59E59 Theaters, August 1 -19, 2012: New York, NY
Western Oregon University, May 14, 2012: Monmouth, OR
PuSh International Performing Arts Festival, Feb 2, 2012: Vancouver, B.C.
Estacada Together, January 20, 2012: Estacada, OR
Ethos/IFCC, December 1-11, 2011: Portland, OR
New Orleans Fringe Festival, November 16-20, 2011: New Orleans, LA
City Arts Festival, October 21-22, 2011: Seattle, WA
Southern Oregon University, October 15-16, 2011: Ashland, OR
WAA Live! Arts! Mashup, August 31, 2011: Seattle, WA (excerpt)
The 1 Festival, Headwaters Theatre, July 15-16, 2011: Portland, OR
the mOuth at Zoomtopia, Jan 20 - February 5, 2011: Portland, OR
JAW Festival, Portland Center Stage, August 2011: Portland, OR (excerpt)
Risk/Reward Festival, BodyVox Dance Center, June 2011: Portland, OR (excerpt)
NW New Works Festival, On the Boards, June 2011: Seattle, WA (excerpt)