"...imagine a bunch of energetic but clueless aliens trying to audition for American citizenship based only on what they've heard on the radio..."
— Willamette Week
Mining the popular musical traditions of the American heartland, Hand2Mouth Theatre samples Karaoke, outlandish theatricality, and absurdist humor in this imaginative work that questions what it means to be a true American. The company plays fast and loose with many of the icons Americans hold dear, marrying heartfelt working songs and campfire sing-a-longs to Southern Rock Anthems and SUV's. Steering a course between irony and true compassion, Repeat After Me takes us on a manic tour through the other America and back into ourselves.

Repeat After Me was commissioned by On The Boards and made possible with support from the Regional Arts & Culture Council, The Equity Foundation, and The Kinsman Foundation. This project is supported in part by a grant from the Oregon Cultural Trust, investing in Oregon's arts, humanities and heritage.
Director
Jonathan Walters
Performers
David: David Chandler
Liz: Liz Hayden
Julie: Julie Hammond
Faith: Faith Helma
Erin: Erin Leddy
Jerry: Jerry Tischleder
Jeb: Jeb Pearson
Assistant Director/ Dramaturg - Marc Friedman
Production Manager/ Dramaturg- Alex Huebsch
Stage Managers - Liam Kaas-Lentz & Kyle McBroom
Set Design - Peter Ksander
Lighting Design - Miranda Hardy
Costume Design - Bobby Brewer-Wallin
Assistant Lighting Design - Adam Saucy
Technical Assistance - Katherine Ogilvie
Prop Design - Drew Danhorn
Choreography - Nancy Ellis, Alenka Loesch, Mike Barber & the ensemble
Collaborating Artists - Michael Rohd, Seth Bockley & Josh Lesser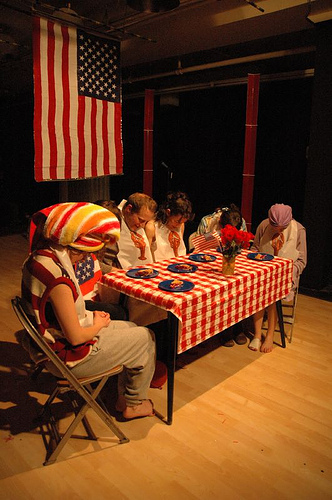 Reviews
Previews
Performance Dates
Fury Factory Ensemble Theater Festival, June 2009: San Francisco, CA
Western Washington University, November 2008: Bellingham, WA
Myrna Loy Center for Performing Arts, June 2008 Helena, MT
University of Oregon, December 1, 2007: Eugene, OR
On the Boards, November 1-4, 2007: Seattle, WA
Lewis & Clark College, October 19, 2007: Portland, OR
Willamette University, October 13, 2007: Salem, OR
PICA TBA Festival, September 11-15, 2007: Portland, OR
Northwest New Works Festival, On the Boards, June 15-17, 2007: Seattle, WA
Work-in-Progress performances, April 29-May 5, 2007, Goldsmith Performance Lab: Portland, OR