Through avalanche and deluge and drought, across prairies and deserts and jungles, we have endured poisoned arrows and frostbite, massacres, mud and mutiny to find glory, fame, adventure, fortune, and most of all: GOLD!
Welcome to a hybrid theatrical world infused with the mania for gold. Conquistadors wearing thigh-high leather boots hold miniature galleons in their hands and search for El Dorado. Their journey through the New World becomes a dark dance to the falsetto demands of the Queen wailing orders to the servants of her conquest into a microphone. Meanwhile, five nineteenth-century Americans race headlong into the madness of the gold rush, encountering fellow lost souls as they battle to strike it rich, or simply survive. Raucous burlesque dance sequences, delicate objects, a capella song, electric bass, atmospheric soundscapes, and raw physical movement accompany the absurd actions of these haunted, gleeful travelers, each struck dumb by superhuman allure.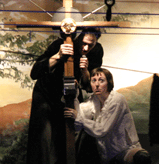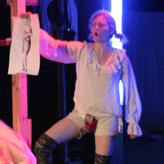 Developed By
Amanda Deutch, Julie Hammond, Mark Hayes, Erin Leddy, Faith Helma, Timothy Scarrot, Jonathan Walters & James Wilson
Director
Jonathan Walters
Performers (Spring 2006)
Salesman/Conquistador: Julie Hammond
Preacher/Priest: Mark Hayes
Edith/Conquistador: Faith Helma
Gussie/Swiftwater Bill/Conquistador: Erin Leddy
Mayor/Queen: Timothy Scarrott
Performers (Fall 2006)
Salesman/Conquistador: Julie Hammond
Preacher/Priest: Jerry Tischleder
Edith/Conquistador: Faith Helma
Gussie/Swiftwater Bill/Conquistador: Erin Leddy
Mayor/Queen: Stephen Beaudoin
Stage Manager (Spring): Gillian Tabler
Stage Manager (Fall): Alex Heubsch
Dramaturgs: Amanda Deutch, James Wilson, Alex Heubsch
Set/Lighting Design: Peter Ksander
Props & Objects on Wheels: Dawn Panttaja
Puppets & Art Objects: Jennica Blanchard & Drew Dannhorn
Costume Design: Carly Jane
Original Music :
("North American" themes)Kate O'Brien & Jay Clarke
Original Music:
("Conquistador" themes)Luxury Yacht
Original Music:
("Slaughter")Seth Nehil
Technical Direction: Craig Annsa
Music Recording & Engineering: Timothy Stollenwerk
Mix Master: David Chandler
House Manager: Alanna Degner
Production Manager: Dana Hyland
Graphic Design: Stephen Pozgay
Set Construction: Peter Ksander, Craig Annsa, Bethie Annsa, Casey Whistler, Erin Leddy, Mark Hayes, Julie Hammond, Timothy Scarrott, Gillian Tabler, Faith Helma, Jonathan Walters, Laura Bender
"A rockin' soundtrack, whimsical stagecraft and a ridiculous banana-flavored sex scene make Hand2Mouth's latest theatrical spectacle at once easily accessible and excitingly experimental. In City of Gold, the company intertwines narratives related to the California gold rush and 16th-century Spanish conquistadors to explore the nature of obsession. The resulting bad-ass symphony of highs and lows focuses on human emotion, avoiding condescending political statements about any modern-day likeness to our fiendish ancestors—that much is self-evident. At some point, this fast-paced one-act takes on the life of a glorified drug movie like Up in Smoke, capturing the thrill of the trip and (to a lesser extent) the despair of the comedown. On opening night, some of the lighting effects needed to be smoothed out while others (a bright light over the back row of the audience) needed to be rethought altogether. In spite of numerous kinks, City of Gold takes audiences for one hell of a wonderful ride."
-Johanna Droubay, Willamette Week, March 15, 2006
"Throughout American history, the quest for gold often has led to tragedy. There's nothing new in this idea, yet director Jonathan Walters and Hand2Mouth Theatre inCity of Gold have mined it to produce an original performance full of remarkably imaginative and surprisingly humorous moments, even if it still seems very much a work in progress because the overall structure of the piece is rather rough. Using a talented cast of five, the play tries to weave together two narrative lines, one dealing with Spanish conquistadors and the other focusing on the California and Klondike gold rushes. Both stories are broadly conceived, offering a scattershot approach to history. Although some of the characters are a bit overdrawn, the play's themes emerge: the futile search for easy riches and the connection between religious fervor and gold fever. City of Gold begins with the actors, director and stage manager introducing themselves to the audience. This familiarity pervades the entire performance. The production mechanics are continually made visible. We see actors changing costumes as well as controlling the sound, and we see the stage manager at her stage-left console busily overseeing the production. For Bertolt Brecht, the German director and playwright who pioneered such gambits, effects like these had a definite purpose: to dislodge the audience from the play's illusion so they could consider its contradictions and ironies without empathizing too much with the actors. Here, however, these devices are more distracting than helpful. Simplicity often goes a long way in this production. With the merest suggestions of period costumes (including bizarre codpieces and high boots), the cast's three women -- Julie Hammond, Faith Helma and Erin Leddy -- portray conquistadors. They stomp-dance in unison about the stage or slash and stab pictures of Native Americans, and manage to convey the awesome irresistibility and brutality of Spanish conquest in the process. In another memorable moment, the conquistadors' search for gold culminates in a knot of writhing bodies that graphically suggest the fulfillment of their dreams of power, wealth and hedonist gratification. This scene is followed by one in which the five actors, spread about the stage and separately illuminated, represent the final alienation and impoverishment of gold rushers. Enhancing the play's story-telling, Walters and company ingeniously integrate into the production miniature Spanish galleons, a miniature Conestoga wagon, and other clever props -- all designed by a team including Dawn Panttaja, Jennica Blanchard, and Drew Dannhorn -- as well as live music. There is much in this production to celebrate, but, given the way Hand2Mouth Theatre reworks its past productions, there is also much room for continued development."
-Richard Wattenberg, The Oregonian, March 13, 2006
"With City of Gold, Hand2Mouth joins Fever Theatre and Liminal at downtown's Goldsmith Building. The huge, largely empty space is full of exposed beams and unfinished floors, as though everything but the building's essential structure has been stripped away. City of Gold is right at home in this setting: Hand2Mouth director/wunderkind Jonathan Walters has constructed a production in which all of the mechanisms are visible, from microphones to hanging lights, and it inspires just as much curiosity and glee as the Goldsmith's funky, cavernous halls. The show uses music, dance, and puppetry to explore the idea of the gold rush as a metaphor—and if that sounds boring, consider that the David Bowie song "Golden Years" is incorporated into the action. The soundtrack is just one of the show's many highlights; others include clever, whimsical props, and, of course, the energy and charisma of the five-person cast. The ensemble members jump from role to role, crossing gender lines, decades, and continents in their single-minded quest for gold. Three conquistadors travel to the New World at the behest of their queen; a preacher joins the cult of gold; a prostitute and a society lady head West to strike it rich and find themselves. There's nothing particularly linear about any of this, and so much jumping about gives the piece a schizophrenic quality that is behind both its best moments and its worst. At best, it is hilarious, poignant, and surprising; at worst, muddled and confusing. As the prostitute Gussy L'Amour, Erin Leddy superbly embodies the spirit of the entire production during a scene when Gussy, onstage at a dance hall, acts out a conversation between a pickaxe and a hankie, both of whom are having a hard time out West. The scene is funny, touching, and slightly baffling—and in the end, the concentration and poise Leddy brings to the scene banish any questions about why the scene is happening in the first place. This principle applies to the production as a whole: I'm not really sure why the orgy scene involving the fellatio of a golden banana and the ensuing fruit pulp come shot was necessary, but I'm glad it happened. Really glad."
-Alison Hallett, Portand Mercury, March 16, 2006
City of Gold is not currently available for touring.
Performance Dates
Portland, OR: March 9-28, 2006
Portland, OR: August 31- September 17, 2006